Gutter Cleaning in Carmel IN
TOP RATED
Gutter Cleaning IN Hamilton County
We have over 200+ Reviews Between Google, Facebook, Yext, and Yelp.
Get The Best Gutter Cleaning in Carmel IN
Gutters, the part of the house that people often overlook because it's "invisible." When they work properly and when they are clean, no one pays attention to them until a problem occurs. But once a problem occurs, then it's too late and damage to your home is inevitable. Basements are flooded, the property is damaged, rampant algae appears, the grass is damaged, etc. When gutters are not maintained and neglected, it will reduce the curb appeal of your home and property value. If you've never cleaned your gutters before, or can't remember the last time you did this, it's time for our Gutter Cleaning in Carmel IN crew to help you out and prevent the many possible consequences of non-maintenance! Indy-Res services Westfield, Kokomo, Sharpsville, Tipton, Atlanta, Arcadia, and the surrounding areas in Hamilton County, Indiana.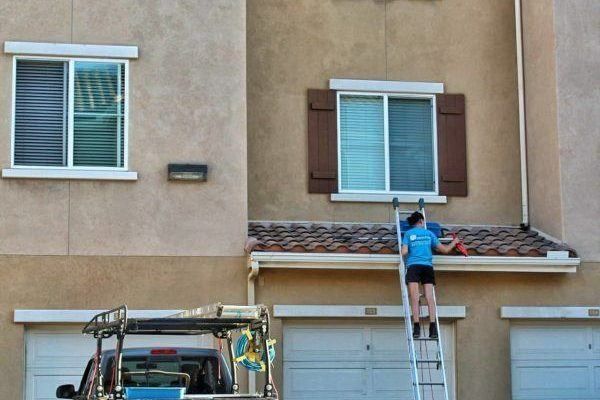 Dangers Of Gutter Cleaning in Carmel IN
Trying to clean your gutters is an extremely complex job that carries with it a certain dose of risk, so never do this yourself, or even worst, never hire someone who does not have enough experience or insurance as it can damage your property and put you as the homeowner, at risk. There is danger from falling off a ladder, and if a person is uninsured, here comes a big problem. All our workers are experienced in this field and have insurance, so you can completely relax and let them do their job. Our workers have all the necessary equipment and expertise to handle it.
Our Gutter Cleaning in Carmel IN Services Will Keep
Benefits Of Our Specialized Gutter Cleaning in Carmel IN
Having your gutters cleaned out twice a year can prevent major devastation to your home's fascia boards, soffits, roofing, and even the interior of your home! If an over abundance of water settles near your home, it could ruin your foundation! Keeping your gutters clear of leaves and debris goes a long way.
Cleaning gutters can be a dangerous activity if you don't have the right equipment. That's why you need to hire professionals like us at Gutter Cleaning in Carmel IN because we have extendable safety ladders, and we use only the most professional cleaning techniques. We will never leave your home messy after we finish the job, always ensuring the debris removed from your gutters is neatly disposed of and removed from your property so you don't have the headache of a massive cleanup afterward.
Get Your Free Gutter Cleaning in Carmel IN Inspection Today
Whether you want to sell your home on the market, or you just want to enjoy full cleanliness and prevent the many possible damages that neglected and clogged gutters may cause, schedule a free gutter cleaning inspection right away, and our Gutter Cleaning in Carmel IN team will work quickly to schedule your free inspection as soon as possible offering you everything you need to be satisfied with our service. Our thorough inspection will provide you with a complete assessment of the work needed to clear your gutters completely, as well as additional tips regarding your home to preserve its value and durability. Other services we offer with benefits include Power Washing, House Washing, Gutter Guard Installation, Roof Cleaning, Pressure Washing, Christmas Light Installation, Concrete Sealing and Deck Staining.
Increase Your Curb Appeal Instantly
Ready To Rejuvenate Your Home?
Our Core Exterior Cleaning Services