Christmas Light Installation in Carmel IN
TOP RATED
Christmas Light Installation IN Hamilton County
We have over 200+ Reviews Between Google, Facebook, Yext, and Yelp.
Get the best Christmas Light Installation in Carmel IN
The holiday season is the most joyful and magical time of year for almost every family. This period brings happiness to all families, from decorating your home to wrapping gifts while your family is together. You will agree that for your family, the most beautiful part of this holiday is certainly hanging the Christmas lights on your home. All families love Christmas lights, but they can also hate all the work this process requires. And for this specific reason, we are here, our Christmas Light Installation in Carmel IN offers professional decoration of your home so that you will not be stressed during the most beautiful family-oriented time of year. Many things need to be done properly for your Christmas light decoration to be perfect. You are certainly already familiar with everything that needs to be done, and by the very thought of this task, you find it is a difficult job. Risk of injury while climbing on the roof, changing bulbs that have stopped working, adjusting colors properly, and much more needs to be done in cold weather. That's why Christmas Light Installation in Carmel IN offers you a complete service so that you are free to devote yourself to your family and also to give them the best possible Christmas light decoration. Indy-Res services Westfield, Carmel, Noblesville, Fishers, Zionsville, and the surrounding areas in Hamilton County, Indiana.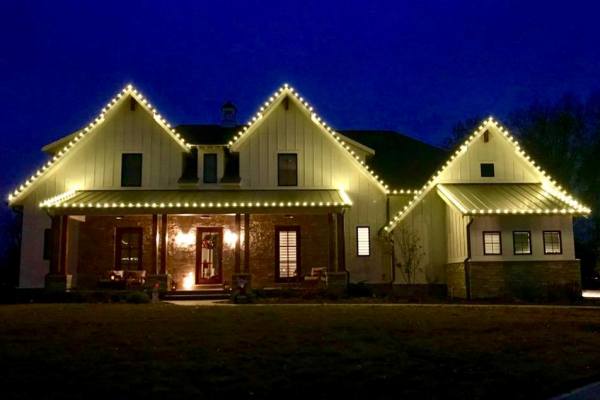 Our Christmas Light Installation in Carmel IN Services Will Brighten Up Your Home Up Instantly
We will help you to enjoy Christmas with your family without the slightest hassle. Although we can't buy presents for your loved ones, what we can do is decorate your house in the best possible way – your home will be the most beautiful in the whole neighborhood. Our employees have years of experience with clients who always come back to us because each time we brighten up their home in the fullest sense of the word. People from our team love this time of year, and they always enjoy providing their clients with an unforgettable holiday with their expertise in Christmas light installation. Treat your loved ones with the most beautiful gift.
Our Christmas Light Installation in Carmel IN Services Will Brighten
Your Home Is Safe And Secure With Our Christmas Light Installation in Carmel IN
What sets our company apart from the others is that your home is safe and secure with our Christmas lighting. We know how important your family and your home are to you, so we are a fully insured company, and you will not have the slightest thing to worry about with us. We guarantee that our service is guided by the latest international standards in this industry. We use the highest quality LED bulbs, and our workers are certified for this job. The safety of your home is our core goal, which is why we have the most reliable workers in the world!
Why choose our Christmas Light Installation in Carmel IN Service?
We at Indy-res believe that you should get the best and safest christmas lighting service for your money, and that's our motto. Our company has been successfully operating in this field for many years and have many satisfied and happy clients, who always return to us during the holidays. All our workers are family people, and they know how important this period is for you and your family. We want to make it possible for you to have the most wonderful holidays with your loved ones, and we will do everything to achieve that! Contact us and give your family an unforgettable home decoration. Other services we offer with benefits include Power Washing, House Washing, Gutter Cleaning, Gutter Guard Installation, Roof Cleaning, Pressure Washing, Concrete Sealing and Deck Staining.
Ready To Rejuvenate Your Home?
Our Core Exterior Cleaning Services